SHUT IN
SHUT IN Update v1.2 - SHUT UP: Coming Soon!
---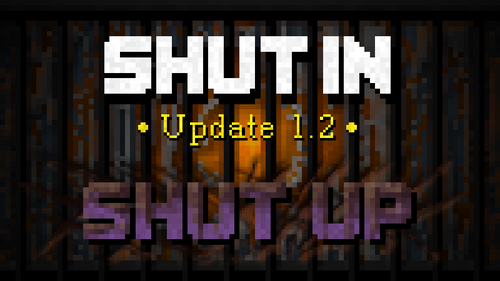 SHUT IN Update v1.2 - SHUT UP: Coming Soon!
Guess what? SHUT UP.
The next major content update is coming soon, featuring more new rooms, items, and features designed to make your stay inside feel a little more... organic.
There are lots of things to do in your newly expanded home, and it's about time you thought about something other than yourself for a change, don't you?
Patch Notes:
New area:
Attic Head upstairs, and SHUT UP. There's an awful lot of stuff up here, and it will take forever to get through it all. It's going to take some serious patience to find all the secrets this place has to offer, and yet, for all this clutter, you swear you're missing some things.
New ending:
Hopefully you'll be rewarded for your efforts. Somehow. There can't be any way out of your house up there, so what benefit could all that trouble really be for? You probably shouldn't bother. You should probably just SHUT UP.
New items:
Did I mention the clutter? You really need to clean up in here. This is honestly embarrassing. There must be stuff all over the house . Isn't there somewhere to put it all? You should really SHUT UP and get to work.
New features:
It's not much, but I guess it's home. You may as well make it a little nicer in here, whilst you're trapped inside. Not that it can be much of an improvement.
Work is under way on the new update, and there's a lot of stuff planned, so no exact release date yet - but the 1.2 Update should be available somewhere around Autumn 2021.
Thanks everybody for the support, as ever, and since there's not much else to say:
SHUT UP.